StretchSPOT is a health and wellness studio launched in 2017 in South Bay Los Angeles, California. The business provides Stretch Therapy and Myofascial Release Therapy at two locations, Torrance and Hermosa Beach. It is owned by wife and husband team Zoe and Kwesi Brown. Ms. Brown manages the locations and Mr. Brown performs the therapy for clients along with training StretchSPOT therapists. StretchSPOT's goal is to help people move freely to the best of their ability and live a pain-free life in the most holistic way possible.
The Problem
Initially, StretchSPOT was using TrueLark (formerly FrontDeskAI) when they had only one location in Torrance, California. Then they were persuaded to switch to the messaging tool their booking software vendor provided. It worked okay with one location, but when they expanded and opened a second location, they encountered a multitude of issues. Ms. Brown recalls the struggle: "There were too many bugs and things going wrong all the time. It took forever to explain and re-explain the problems, and often, they couldn't provide a satisfactory solution."
Ms. Brown explained, "It couldn't differentiate between the two locations and was giving clients the option to book at the wrong location and sending clients to the wrong studio. 
Ms. Brown tried working with the vendor's tech support team to resolve the issue, but to no avail. She shared her frustration: "I thought splitting the two sites and having a separate platform for each location would solve the problem. But it required a lot of manual work, hours spent on the phone with tech support, only to be told it was a bug they couldn't fix."
StretchSPOT needed a reliable front desk AI solution to tame the communications chaos and enable clients to book 24/7 at either location. They were worried about missed business and poor client experiences due to the problems with their messenger platform.
The Solution
Seeking a capable, efficient and hassle-free solution, StretchSPOT made the decision to return to TrueLark. To their delight, they discovered that TrueLark worked virtually seamlessly for their two locations, just as it had for their previous single location.
Client Satisfaction and Ease of Use
Ms. Brown explained how StretchSPOT is back on track with TrueLark:
StretchSPOT guests love booking with TrueLark and appreciate the convenience of 24/7 booking. "Clients say, 'Don't get rid of the bot!'"
TrueLark seamlessly manages both locations from a single dashboard, making it easy for Ms. Brown who operates without front desk staff.
TrueLark's AI chat answers client and prospect questions, and Ms. Brown can easily identify calls that require her attention and follow-up.
StretchSPOT employees find TrueLark easy to use, with one staff member figuring it out without any training. "That's how straightforward it is."
When clients are in a situation where they couldn't place a phone call, they can book via SMS.
Benefits of TrueLark
Simple and clean interface with real-time updates. "TrueLark is nice and clean and there's no lag."
Integrated dashboard allows Ms. Brown to handle incoming calls from both locations efficiently.
Clients can book via SMS without having to link to a booking system.
Two-way texting feature is highly effective for communication, especially when there are schedule delays and they need to notify a client quickly.
Smooth Transitions and Excellent Support
Ms. Brown also praised the onboarding process with TrueLark as being quick and easy. LJ, the TrueLark onboarding specialist, provided comprehensive support, ensuring a smooth experience for StretchSPOT.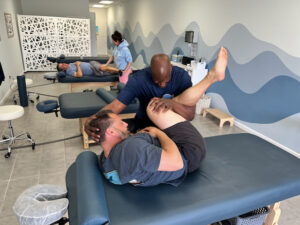 StretchSPOT + TrueLark is a Formula for Success
StretchSPOT is delighted to have returned to TrueLark and appreciates the seamless communication and efficient booking experience it provides. With satisfied clients, easy management, and a user-friendly interface, TrueLark has become an integral part of StretchSPOT's operations.
We're thrilled to have StretchSPOT back where they belong!
TrueLark Solution Highlights
Clients can book by text or get questions answered at any time, day or night
Ms. Brown can manage conversations from two locations in one dashboard
StretchSPOT employees needed little to no training to use TrueLark
When clients are in a situation where they couldn't place a phone call, they can book via SMS
TrueLark allows StretchSPOT operate without a dedicated receptionist
StretchSPOT Automation Metrics (monthly averages)
233 Conversations
52 Enrollments
95% Conversation Handle Rate
74% Enrollment Request Conversion
19 hrs Time Saved
$3.3k Enrollments Value