Technology behind TrueLark
The most powerful AI to automate business communications
What makes TrueLark different from any other product on the market is the number of outcomes that Sasha, our business assistant, can achieve with little to no effort from our customers. In simpler terms, Sasha accomplishes more and bothers you less than any other product in the market.
Millions of conversations on our platform have led to the continuous growth of Sasha's abilities. Hundreds of ways to customize the product allow our technology to match how our customers do business, not the other way around. Our technology is artificial intelligence (AI), but our conversations are human-led.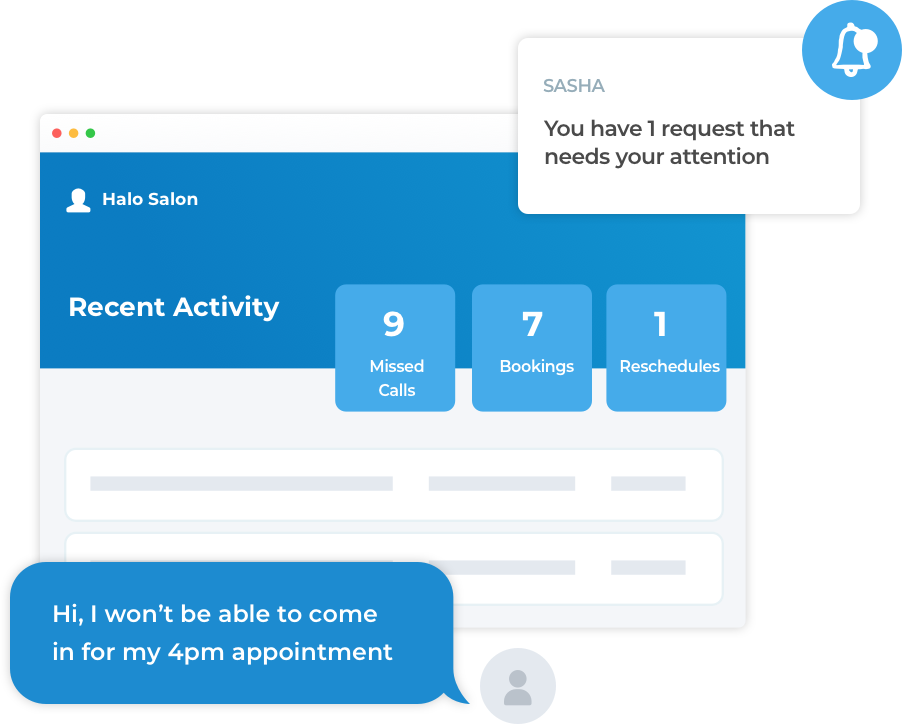 No more frustrating conversations
When humans engage in conversation with bots, the initiative often passes from one party to the other. You can compare this to calling a credit card company or a bank and getting an automated phone system with only limited options to choose from. There is a reason why so many of us press "0" instantly to speak with an operator.
The current "AI" approach does not enable the types of conversations humans are used to and expect. Natural conversations that contain empathy, comprehension of slang, typos, and regional terms (think y'all vs. you all). As a consequence, chatbots offer limited capabilities and often leave clients underwhelmed and frustrated.
TrueLark recognized these limitations and decided to take a radically different approach to conversational AI.
Meet MIDGO AI
In building Sasha, TrueLark has built a far more comprehensive solution which is more than just a booking bot, but rather a true extension of your business. MIDGO AI was built with the future in mind and renders chatbot technologies obsolete.
Better user experience
The conversation is led by the consumer, not the technology. Leading to more natural conversations and happier clients.
Better business experience
Minimal staff intervention. We provide two lines of defense in answering clients' questions. Our AI, then our AI Trainers, before asking the business to step in.
Learns over time
Just like your staff, your AI-powered assistant will learn with every conversation. Think of it like training a staff member. But your newest staff member will never quit or go on vacation. Sasha is always there for you and your clients.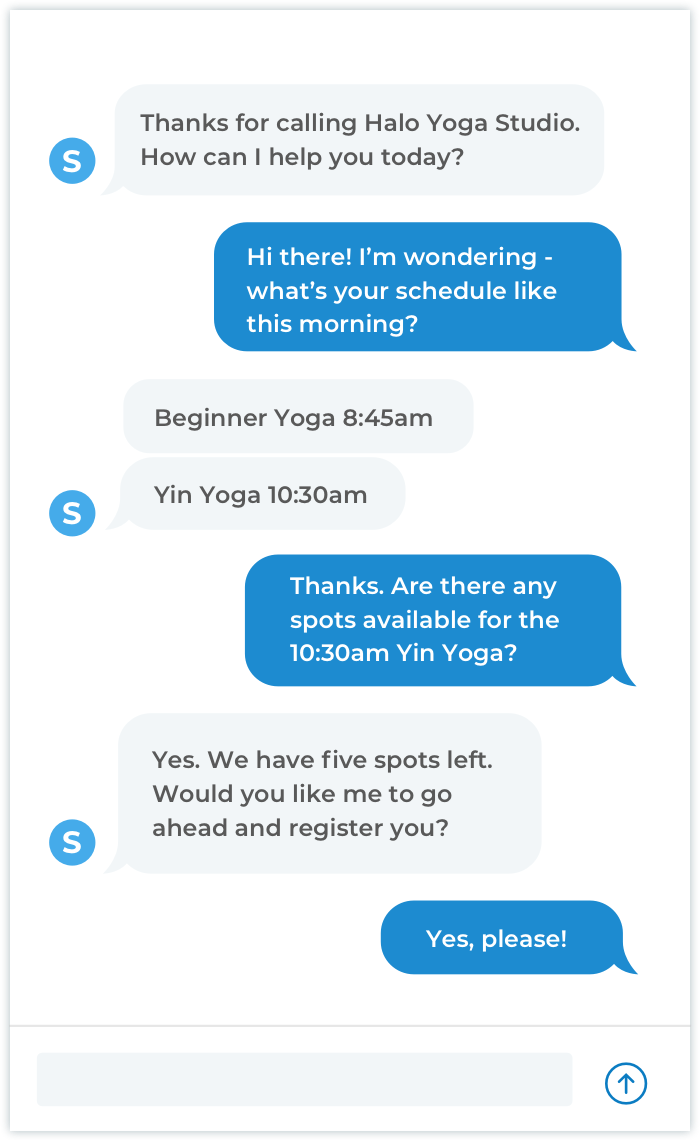 More scenarios covered
Enables a range of human-like conversations that allow your customers to successfully navigate requests they require when they reach out to your business.
Sasha handles 10x more scenarios, comparing to chatbots that are only able to achieve booking a simple, single-user, single-service appointment.
2-3x
more appointments booked
10x
more scenarios covered
Scenarios include, but not limited to:
Multi-service appointments
Multi-client appointments
Collect payment info
Clients running late
Parking tips
Technology for humans
We've crafted a seamlessly choreographed dance between AI and Human Trainers. Our human trainers coach the AI on empathy, slang, human frustration, and provides affirmations to repeat positive outcomes. Humans don't have to worry about spelling, grammar, wrong dates, times, or templates. This helps to eliminate human error and supercharges humans' abilities to get more done in less time.
If Sasha gets stuck, a wellness-trained expert on the TrueLark team helps the AI understand what was being asked. The trainer unblocks the AI, and the customer proceeds with their request — all in real-time.
Minimal wait times
Minimal staff intervention
Auto-learning with each new question/answer
What happens when Sasha doesn't understand the question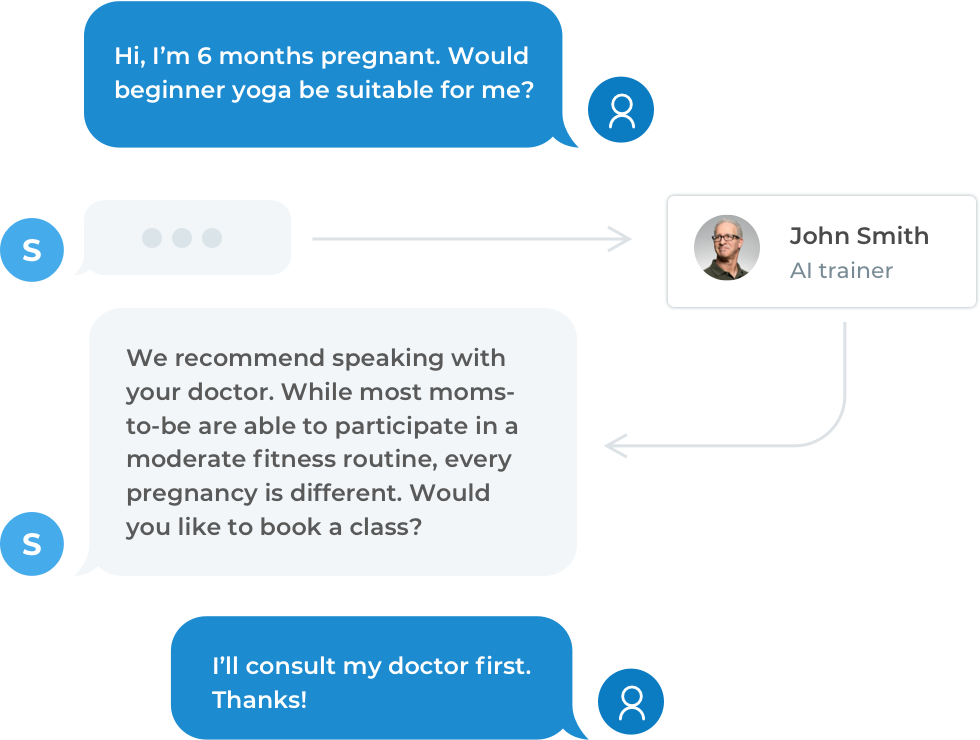 Transparent & easy to manage
Customizations
Filter the availability you present to your clients based on staff, services, and times. Pre-booking flows to recommend the right services to your guests.
Timed notifications
Coordinate between the customer, staff, and business owner with timed notifications. Connecting clients and staff when human interaction is needed.
Insights about customers
Discover and organize what customers are calling about. Monthly and daily updates through our live dashboards.
Want to see the technology in action?
In building Sasha, TrueLark has built a far more comprehensive solution which is more than just a booking bot, but rather a true extension of your business. Contact us and find out more.
Schedule a demo